Start Building Your Wealth Today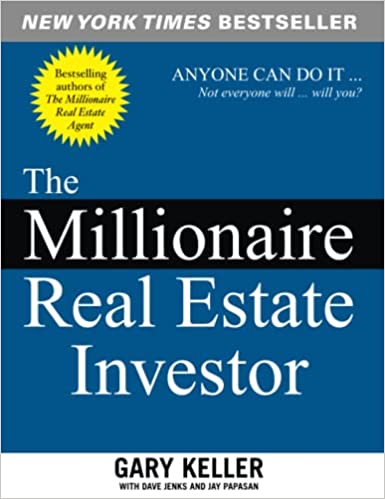 THE MILLIONAIRE REAL ESTATE INVESTOR
Anyone who seeks financial wealth must first learn the fundamental truths and models that drive it. The Millionaire Real Estate Investor represents the collected wisdom and experience of over 100 millionaire investors from all walks of life who pursued financial wealth and achieved the life-changing freedom it delivers. This book--in straightforward, no nonsense, easy-to-read style--reveals their proven strategies.
The Millionaire Real Estate Investor is your handbook to the tried and true financial wealth building vehicle that rewards patience and perseverance and is available to all--real estate. You'll learn:
Myths about money and investing that hold people back and how to develop the mindset of a millionaire investor
How to develop sound criteria for identifying great real estate investment opportunities
How to zero in on the key terms of any transaction and achieve the best possible deals
How to develop the "dream team" that will help you build your millionaire investment business
Proven models and strategies millionaire investors use to track their net worth, understand their finances, build their network, lead generate for properties and acquire them.
The Millionaire Real Estate Investor is about you and your money. It's about your financial potential. It's about discovering the millionaire investor in you.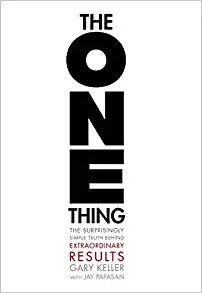 What's your ONE thing?
People are using this simple, powerful concept to focus on what matters most in their personal and work lives. Companies are helping their employees be more productive with study groups, training, and coaching. Sales teams are boosting sales. Churches are conducting classes and recommending for their members.
By focusing their energy on one thing at a time people are living more rewarding lives by building their careers, strengthening their finances, losing weight and getting in shape, deepening their faith, and nurturing stronger marriages and personal relationships.
YOU WANT LESS. You want fewer distractions and less on your plate. The daily barrage of e-mails, texts, tweets, messages, and meetings distract you and stress you out. The simultaneous demands of work and family are taking a toll. And what's the cost? Second-rate work, missed deadlines, smaller paychecks, fewer promotions--and lots of stress.
AND YOU WANT MORE. You want more productivity from your work. More income for a better lifestyle. You want more satisfaction from life, and more time for yourself, your family, and your friends.
NOW YOU CAN HAVE BOTH ― LESS AND MORE. In The ONE Thing, you'll learn to:
cut through the clutter

achieve better results in less time

build momentum toward your goal

dial down the stress

overcome that overwhelmed feeling

revive your energy

stay on track

master what matters to you
The book has:
Made on more than 575 appearances on national bestseller lists

Been #1 Wall Street Journal bestseller, New York Times bestseller, and USA Today bestseller

Been translated into 40 languages

Won 12 book awards

Voted Top 100 Business Book of All Time on Goodreads
The ONE Thing delivers extraordinary results in every area of your life--work, personal, family, and spiritual. WHAT'S YOUR ONE THING?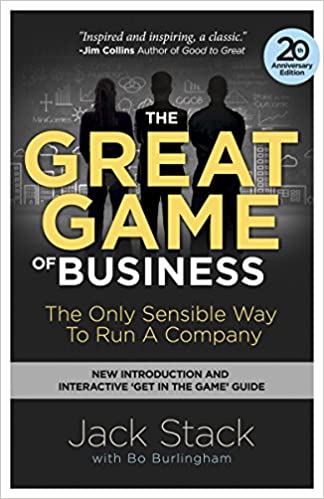 By James Stack with Bo Burlingham
The Great Game of Business started a business revolution by introducing the world to open-book management, a new way of running a business that created unprecedented profit and employee engagement.
 
The revised and updated edition of The Great Game of Business lays out an entirely different way of running a company. It wasn't dreamed up in an executive think tank or an Ivy League business school or around the conference table by big-time consultants. It was forged on the factory floors of the heartland by ordinary folks hoping to figure out how to save their jobs when their parent company, International Harvester, went down the tubes.
What these workers created was a revolutionary approach to management that has proven itself in every industry around the world for the past thirty years—an approach that is perhaps the last, best hope for reviving the American Dream.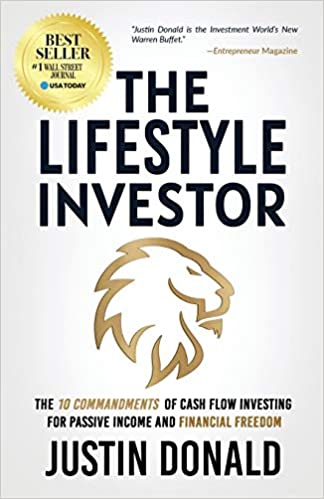 #1 Wall Street Journal Bestseller!
Create the Freedom & Lifestyle You've Always Dreamed About without a Job or Business

Let's face it. You want more—more money and freedom, less work, and a higher quality of life.

What if there were a simple, proven system to get you off the hamster wheel, create cash flow, and generate real wealth with little risk or complexity?

The Lifestyle Investor is your ticket to:
End trading time for money so you have more of both
Create immediate cash flow while reducing your investment risk
Replace your job with passive cash flow streams that multiply your wealth so you can live life on your terms.
Join the super-achievers experiencing wealth and freedom today!
Entrepreneur Magazine calls Justin Donald the "Warren Buffett of Lifestyle Investing." He's a master of low-risk cash flow investing, specializing in simplifying complex financial strategies, structuring deals, and disciplined investment systems that consistently produce profitable results. His ethos is to "create wealth without creating a job."

In the span of 21 months, and before his 40th birthday, Justin's investments drove enough passive income for both he and his wife Jennifer to leave their jobs. Following his simple investment system and 10 Commandments of Lifestyle Investing©, Justin negotiated deals with over 100 companies, multiplied his net worth to over eight figures, and maintained a family-centric lifestyle in less than two years. Just two years later, he doubled his net worth again.

He now consults and advises entrepreneurs and executives on lifestyle investing. Justin hosts the podcast The Lifestyle Investor® featuring his lessons and proven investment system that consistently produces repeatable returns.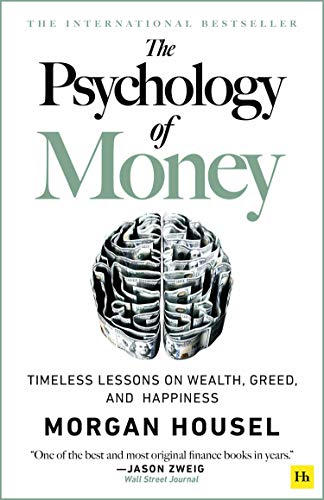 Doing well with money isn't necessarily about what you know. It's about how you behave. And behavior is hard to teach, even to really smart people.

Money―investing, personal finance, and business decisions―is typically taught as a math-based field, where data and formulas tell us exactly what to do. But in the real world people don't make financial decisions on a spreadsheet. They make them at the dinner table, or in a meeting room, where personal history, your own unique view of the world, ego, pride, marketing, and odd incentives are scrambled together.

In The Psychology of Money, award-winning author Morgan Housel shares 19 short stories exploring the strange ways people think about money and teaches you how to make better sense of one of life's most important topics.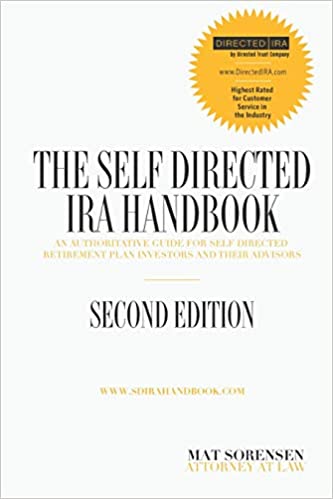 SELF DIRECTED IRA HANDBOOK
The Self-Directed IRA Handbook is the most widely used book in the self-directed IRA industry. The first edition was released in 2013 and sold over 20,000 copies. The Second Edition added 80 new pages of content and three new chapters (solo 401(k), cryptocurrency, valuations) with over 50 new citations. The Handbook, now in its Second Edition, clearly explains the prohibited transaction rules, investment structures, common self-directed IRA investment assets (real estate, private company, IRA/LLCs, private equity, hedge funds, crowdfunding, crytpocurrency, precious metals), and IRA tax pitfalls (UBIT & UDFI tax). The Handbook also includes extensive FAQs after each chapter, and nearly 150 citations to cases, statutes, rulings, and opinions from the IRS and DOL.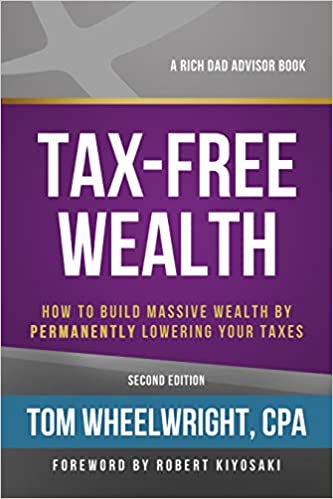 After 31 years… Major Tax Reform ― and what it means to you True overhaul of the tax law only happens about once every 30 years. In the past 75 years, the U.S. tax law has only seen three major revisions; one in 1954, the next in 1986 and most recently at the end of 2017. I have been fortunate as a tax professional to be heavily involved in the last two reforms. In 1986, I was a manager in the National Tax Department (NTD) of Ernst & Whinney (now Ernst Young). My primary responsibility during my three years there was to create, teach and administer tax courses to the Firm's U.S. tax professionals. Just as I arrived in the summer of 1985, I discovered that much of NTD's resources were being devoted to following the tax reform bill that had been introduced that year. This gave me, as a young tax professional, some amazing insight into the legislative process as well as the horse trading for tax reform. President Reagan wanted two things; simplicity (the 1985 act was call the Tax Simplification Act of 1985) and he wanted it to be revenue neutral (no net increase to the deficit). It took another year before bill was finally passed as the Tax Reform Act of 1986. (Simplicity took a back seat to other goals of the reform.) In 1986 the big winners from tax reform were individuals, with significantly lower tax rates, insurance companies (who got by relatively unscathed) and businesses. The big loser was real estate investors (the passive loss rules were used as a last-ditch effort to make a "revenue-neutral" bill. The result a few years later was the Savings and Loan debacle accompanied by a massive real estate depression and the government bailing out real estate through the RTC (Resolution Trust Corporation)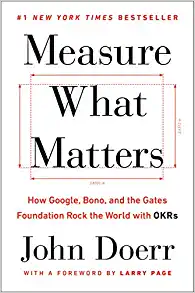 #1 New York Times Bestseller

Legendary venture capitalist John Doerr reveals how the goal-setting system of Objectives and Key Results (OKRs) has helped tech giants from Intel to Google achieve explosive growth—and how it can help any organization thrive.

In the fall of 1999, John Doerr met with the founders of a start-up whom he'd just given $12.5 million, the biggest investment of his career. Larry Page and Sergey Brin had amazing technology, entrepreneurial energy, and sky-high ambitions, but no real business plan. For Google to change the world (or even to survive), Page and Brin had to learn how to make tough choices on priorities while keeping their team on track. They'd have to know when to pull the plug on losing propositions, to fail fast. And they needed timely, relevant data to track their progress—to measure what mattered.

Doerr taught them about a proven approach to operating excellence: Objectives and Key Results. He had first discovered OKRs in the 1970s as an engineer at Intel, where the legendary Andy Grove ("the greatest manager of his or any era") drove the best-run company Doerr had ever seen. Later, as a venture capitalist, Doerr shared Grove's brainchild with more than fifty companies. Wherever the process was faithfully practiced, it worked.

In this goal-setting system, objectives define what we seek to achieve; key results are how those top-priority goals will be attained with specific, measurable actions within a set time frame. Everyone's goals, from entry level to CEO, are transparent to the entire organization.

The benefits are profound. OKRs surface an organization's most important work. They focus effort and foster coordination. They keep employees on track. They link objectives across silos to unify and strengthen the entire company. Along the way, OKRs enhance workplace satisfaction and boost retention.

In Measure What Matters, Doerr shares a broad range of first-person, behind-the-scenes case studies, with narrators including Bono and Bill Gates, to demonstrate the focus, agility, and explosive growth that OKRs have spurred at so many great organizations. This book will help a new generation of leaders capture the same magic.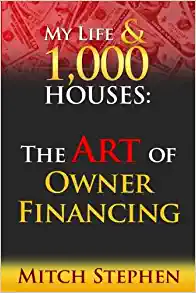 MY LIFE AND 1000 HOUSES: THE ART OF OWNER FINANCING
Doing well with money isn't necessarily about what you know. It's about how you behave. And behavior is hard to teach, even to really smart people.

Money―investing, personal finance, and business decisions―is typically taught as a math-based field, where data and formulas tell us exactly what to do. But in the real world people don't make financial decisions on a spreadsheet. They make them at the dinner table, or in a meeting room, where personal history, your own unique view of the world, ego, pride, marketing, and odd incentives are scrambled together.

In The Psychology of Money, award-winning author Morgan Housel shares 19 short stories exploring the strange ways people think about money and teaches you how to make better sense of one of life's most important topics.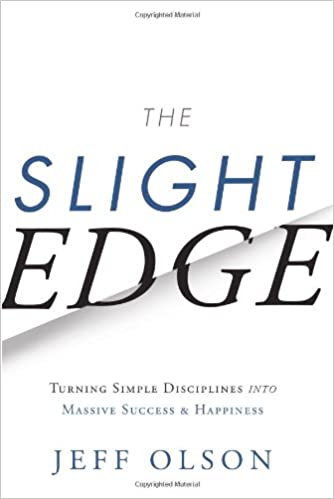 The Slight Edge is a way of thinking, a way of processing information that enables you to make the daily choices that will lead you to the success and happiness you desire. Learn why some people make dream after dream come true, while others just continue dreaming and spend their lives building dreams for someone else. It's not just another self-help motivation tool of methods you must learn in order to travel the path to success. It shows you how to create powerful results from the simple daily activities of your life, by using tools that are already within you.
In this 8th anniversary edition you'll read not only the life-changing concepts of the original book, but also learn what author Jeff Olson discovered as he continued along the slight edge path: the Secret to Happiness and the Ripple Effect.
This edition of The Slight Edge isn't just the story, but also how the story continues to create life-altering dynamics--how a way of thinking, a way of processing information, can impact daily choices that will lead you to the success and happiness you desire. The Slight Edge is "the key" that will make all the other how-to books and self-help information that you read, watch and hear actually work.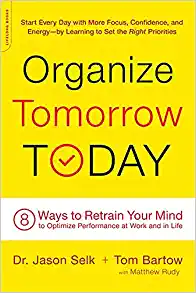 By Jason Selk with Tom Bartow and Matthew Rudy
In Organize Tomorrow Today (OTT), two of the top minds in human performance come together to deliver the pathway to extreme success: Doing more is not the answer, and Selk and Bartow walk you through how to achieve more by doing less.
Dr. Jason Selk helps well-known professional and Olympic athletes as well as Fortune 500 executives and organizations develop the mental toughness necessary to thrive in the face of adversity and achieve elite-level results. Tom Bartow, following a career as a winning college basketball coach, became one of the country's top financial advisors and is now one of the premier business coaches nationwide. Together, Selk and Bartow reveal the secrets of how both elite athletes and business leaders climb to the top.
There is a huge difference between knowing something and understanding. There is an even wider gap between understanding and doing. Highly successful people never get it all finished in any given day; however, they always get the most important things completed. Selk and Bartow offer the 8 fundamentals of doing what is most important. OTT will show you the performance gains that athletes, executives, and salespeople spend tens of thousands of dollars to achieve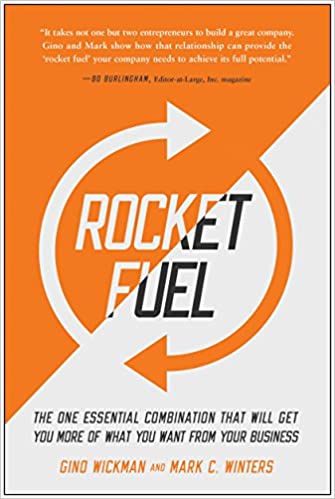 By Gino Wickman and Mark C. Winters
Discover the vital relationship that will take your company from "What's next?" to "We have liftoff!"

Visionaries have groundbreaking ideas. Integrators make those ideas a reality. This explosive combination is the key to getting everything you want out of your business. It worked for Disney. It worked for McDonald's. It worked for Ford. It can work for you.

From the author of the bestselling Traction, Rocket Fuel details the integral roles of the Visionary and Integrator and explains how an effective relationship between the two can help your business thrive. Offering advice to help Visionary-minded and Integrator-minded individuals find one another, Rocket Fuel also features assessments so you're able to determine whether you're a Visionary or an Integrator.

Without an Integrator, a Visionary is far less likely to succeed long-term ,and realize the company's ultimate goals—likewise, with no Visionary, an Integrator can't rise to his or her full potential. When these two people come together to share their natural talents and innate skill sets, it's like rocket fuel—they have the power to reach new heights for virtually any company or organization.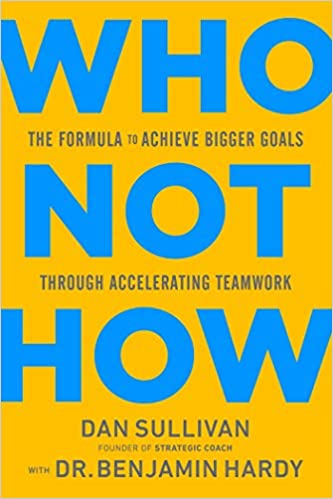 By Dan Sullivan and Dr. Benjamin Hardy
The world's foremost entrepreneurial coach shows you how to make a mindset shift that opens the door to explosive growth and limitless possibility--in your business and your life.

Have you ever had a new idea or a goal that excites you... but not enough time to execute it? What about a goal you really want to accomplish...but can't because instead of taking action, you procrastinate? Do you feel like the only way things are going to get done is if you do them? But what if it wasn't that way? What if you had a team of people around you that helped you accomplish your goals (while you helped them accomplish theirs)?
When we want something done, we've been trained to ask ourselves: "How can I do this?" Well, there is a better question to ask. One that unlocks a whole new world of ease and accomplishment. Expert coach Dan Sullivan knows the question we should ask instead: "Who can do this for me?"

This may seem simple. And it is. But don't let the lack of complexity fool you. By mastering this question, you will quickly learn how billionaires and successful entrepreneurs like Dan build incredible businesses and personal freedom.

This book will teach you how to make this essential paradigm-shift so you can:

* Build a successful business effectively while not killing yourself
* Immediately free-up 1,000+ hours of work that you shouldn't be doing anyway
* Bypass the typical scarcity and decline of aging and other societal norms
* Increase your vision in all areas of life and build teams of WHOs to support you in that vision
* Never be limited in your goals and ambitions again
* Expand your abundance of wealth, innovation, relationships, and joy
* Build a life where everything you do is your choice--how you spend your time, how much money you make, the quality of your relationships, and the type of work you do

Making this shift involves retraining your brain to stop limiting your potential based on what you solely can do and instead focus on the nearly infinite and endless connections between yourself and other people as well as the limitless transformation possible through those connections.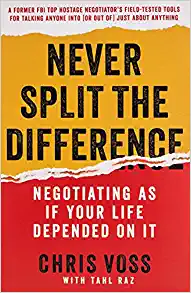 NEVER SPLIT THE DIFFERENCE
By Chriss Voss and Tahl Raz
A former international hostage negotiator for the FBI offers a new, field-tested approach to high-stakes negotiations―whether in the boardroom or at home.
** A Wall Street Journal Bestseller **
After a stint policing the rough streets of Kansas City, Missouri, Chris Voss joined the FBI, where his career as a hostage negotiator brought him face-to-face with a range of criminals, including bank robbers and terrorists. Reaching the pinnacle of his profession, he became the FBI's lead international kidnapping negotiator. Never Split the Difference takes you inside the world of high-stakes negotiations and into Voss's head, revealing the skills that helped him and his colleagues succeed where it mattered most: saving lives. In this practical guide, he shares the nine effective principles―counterintuitive tactics and strategies―you too can use to become more persuasive in both your professional and personal life.
Life is a series of negotiations you should be prepared for: buying a car, negotiating a salary, buying a home, renegotiating rent, deliberating with your partner. Taking emotional intelligence and intuition to the next level, Never Split the Difference gives you the competitive edge in any discussion.